Seeing your kids happy feels like you are a successful parent. You have given all the love, care, and happiness to them. What else is lacking? Time, yes, is the most important thing to them. When a parent has time for their kids, they feel loved and cared for. Time is a package to them.
One of the best things in making them happy is to let them feel and enjoy their childhood days. One of the children's rights is the right to play. It makes them enjoy being a child and the only way is to give them the freedom to explore the outdoors. But, busy parents might not let their children go outside, which is why it is best to come up with the idea of creating a playground at home.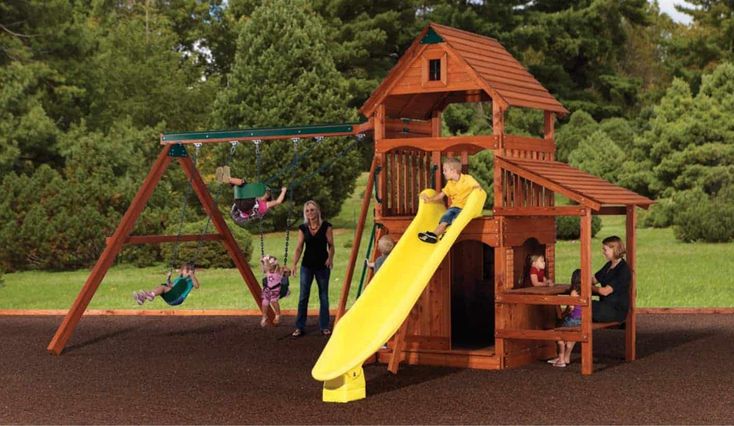 How to create a playground?
Your backyard will be the best spot to create a playground at home. To start with, look for the toys for kids installed on the playground; you can buy slides, climb, sandpits, jump, ride, and swing sets online. Swings come in various forms, from wooden to plastic built. Plastic tubes and pipes are waiting to be assembled. Metal and steel versions of swing sets can make any child's day.
But, picking a form of the swing set is essential for the safety of the kids. Installing swings must be safe for them. Therefore, choose a swing set that fits your kid's age. Several styles and features of swing sets provide options for your kids. Some backyard swing sets have the following:
See-saw
Rings
Ball hoops
Slides
This swing set will make your kids' outdoor play more creative and fun. Some sets have surf-board swings. Above all, the features and accessories of the swing sets are a great way to encourage play and social interaction with friends. Having a backyard swing set at home gives your kids enough time for fun and entertainment.
How to choose a good set of swings?
Choosing a good set of swings for your children can be challenging. There are several considerations on the material to check before buying it. It helps you decide and have a quick run through the different types of swing sets available.
Types of swing sets
There are several common types of swing sets available. You have wooden, plastic, stainless steel, metal, alloy, and more. These are just a few types of swing sets that are mostly purchased; installed at parks, kids' play centers, churches, schools, and other spaces where kids can play and have fun with friends.
All these are good choices of swing sets, but as a buyer, you have to consider the specifications of a swing set you plan to install in your backyard. See the difference between these types of swing sets online.