A wooden building block is an educational toy primarily made out of wood. They are used to build models by children and adults alike. The blocks can be locked together tightly with other blocks or beams that connect the blocks, forming more complex structures and openings for inserting wooden figures or accessories such as doors and windows.
Wooden building block toys typically feature several different shapes that can be stacked on top of one another to form simple towers, bridges, houses, castles, anything imaginable. There is typically an assortment of different colors in the toy box too!
You may find yourself asking, "how do I get my kids excited about using their imagination with these toys?" Well, here are some fun and exciting ideas to try:
– Make a stamp pad out of different color wooden building blocks and paint! Let your kid decorate their stamp pad with shapes, numbers, letters and use it for drawings.
– Write down several math problems on pieces of paper. Hide the papers as you normally would for a treasure hunt game all-around your house or backyard. Be sure to be creative in hiding them, so they are not too easy to find! Once found, have your child solve the problem and build whatever shape is given as an answer using their wooden blocks and beams that connect the blocks.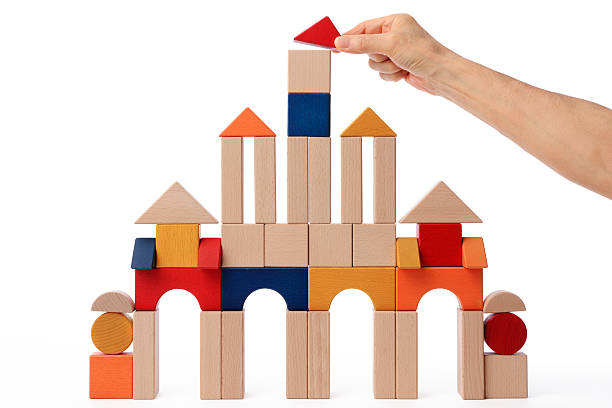 – Using toilet paper or tissue rolls cut into thirds (so there are four equal parts), write down different kinds of food onto each section, then stack them on top of each other and use the blocks to match up with the item names you wrote down. Once matched, cut one section of the roll-off and use it as a way to eat your food.
– Puppet shows are always entertaining for everyone! Use props from around the house, wooden blocks included, to build little sets for your puppets. Make several different scenes from a picnic in the park, watching television, or even sleeping in bed together as a family. You can make your puppets out of clothespins too.
– Create doorways into imaginary worlds using building blocks and beams that connect them. It's fun to see what kind of weird-looking creatures live inside these new worlds! Offering a reward if they draw a picture of what they see inside their world is also a great idea.
Give your child instructions on building different objects out of the blocks, such as, "build me a ramp that can support my toy car." They must then think about accomplishing this task using all the blocks and beams you have provided them with. You may even occasionally provide them with new challenges too!